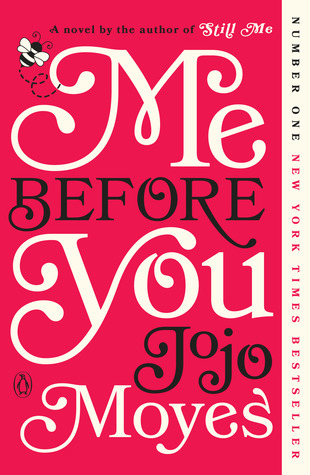 Title: Me before you
Author: Jojo Moyes
Edition: Tradepaperback
Publication: July 30th 2013 by Penguin Books (first published December 31st 2012)
Pages: 369 pages
Category: Adult, Romance, Contemporary
SYNOPSIS
Discover the love story that captured over 20 million hearts in Me Before You, After You, and Still Me.
They had nothing in common until love gave them everything to lose . . .
Louisa Clark is an ordinary girl living an exceedingly ordinary life—steady boyfriend, close family—who has barely been farther afield than their tiny village. She takes a badly needed job working for ex–Master of the Universe Will Traynor, who is wheelchair bound after an accident. Will has always lived a huge life—big deals, extreme sports, worldwide travel—and now he's pretty sure he cannot live the way he is.
Will is acerbic, moody, bossy—but Lou refuses to treat him with kid gloves, and soon his happiness means more to her than she expected. When she learns that Will has shocking plans of his own, she sets out to show him that life is still worth living.
A Love Story for this generation and perfect for fans of John Green's The Fault in Our Stars, Me Before You brings to life two people who couldn't have less in common—a heartbreakingly romantic novel that asks, What do you do when making the person you love happy also means breaking your own heart?
LIKENESS SCALE
Warning: Possible Spoilers
thoughts..thoughts..thoughts..
COVER
I love the cover. It is simple yet beautiful. I would not associate the story with this cover because red is a happy color. However, this again depends on the perspective. One could say that it was a good one because the end was a new beginning for Luisa which is a positive ending. But the ending of a possible relationship of Will and Luisa was such a downer. The little details on the front cover consists of a bee and stylish fonts make the book standout.
STORY PLOT
The story starts with Will Traynor having an accident which made him a quadriplegic. He lost everything; a normal life full of action. After a few years, he meets Luisa his caretaker for 6 months. Luisa is a pretty lady who has weird, colorful clothes which makes her unique. At first, Will was very hard to work with. Her patience was tested because her patient was not compliant. She needed to learn fast since a lot of medical procedures were needed by Will. After a few weeks with the Traynors, Luisa learned that Will has attempted suicide and that he is willing to undergo suicide assistance by Dignitas. This makes her more driven to make Will realize that living is very important. She makes plans and schedule activities for Will. Slowly, with this their relationship became a friendship which was special. Even if their feelings were the same, Will still wanted to take the services of Dignitas. Dignitas is a facility which offers services like suicide assistance. It breaks the heart of Luisa but she accepts it because Will wants to. In the end, Luisa was given a sum of money by Will for her to use to help her explore the world and her potential to make something different.
The story was beautifully written. It was simple yet I ugly cried for Luisa. The story had the same vibes with A walk to remember by Nicholas Sparks. This book is an eye opener for me because I was ignorant about Dignitas before this book. I was surprised-horrified-sad that there is an organization which offers Accompaniment of dying patients and assistance with a self-determined end of life (www.dignitas.ch). This is very controversial for me since it goes against my beliefs. However, I understand Will too, because it is also hard to accept that everything is different. Aside from this, he experiences a lot of pain because of his condition. Somehow, I can not judge if what he did is right but it was selfish. He has scarred Luisa because no amount of money could help heal a broken heart. I have not read After you and I'm expecting a lot of pain, heart ache and sadness from Luisa because of Will's decision.
CHARACTERS
I love Luisa's quirky, positive attitude. She was a breath of fresh air for Will. Her sunniness and determination to make Will happy was commendable. Even if she was sort of ditsy, I am sure she has a high Emotional Quotient. As for Will, I like him with his sarcastic comments and smart observations. I love that he gave Luisa a chance to do her job. Both characters on their good day were nice to read. However at the end it was just too sad for me. I was not happy with Luisa's boyfriend. He is a selfish prick who took for granted Luisa. As for her sister, she was also a reason why Luisa cannot spread her own wings and fly. Luisa was left to take care of her family's need which was money. However, Luisa's life changed because Will Traynor was able to fix everything before he died.
CONCLUSION
First of, I would like to confess that I watched the movie first before reading the book. I don't usually do this but this is a special case. I did this because I wanted to gauge if I would be able to handle the sadness of the story. Also, the actress and actor for the movie were a favorite of mine. After watching, I decided to read the book because I wanted to experience the story from the book. Compared to the movie which had a 5 hearts rating (movie review), the book was a 4 hearts rating. The book is lower, since it was to complex which made me sad. Like the time when Luisa was left in the maze, also the book was sadder than the movie. I do love them both but the movie was just simple and straight to the point that I can't help but like it more. Some may disagree with me but I prefer to have one heavy sad topic than to have a lot of problems which make me sad. I am aware that this is a controversial book but it reminds me that we all have our choices to make. Also, the responsibility to make the right decision would always be up to us. Aside from this, I learned that what we do with time is very important. Spend your time with your loved ones. Do what you love and travel for new experiences and knowledge. Somehow, maybe Will decided to commit assisted suicide because he was able to do the things which were important to him already. Also, that his pain was unbearable. It would be selfish of Luisa to ask him to live and feel that pain everyday. There are a lot of questionable sides to the story but it depends on the persons belief and point of view. Although, it was a sad ending, it is not the end of Luisa's story. I would very much remember this story.
BUY, BORROW, NEVER MIND: Buy
Disclaimer: This review is my honest opinion on the story. I did not receive any kind of compensation for reading and reviewing this book. I am under no obligation to write a positive review. I purchased my own copy of Me before you by Jojo Moyes . The book photo and synopsis here is from goodreads.com.