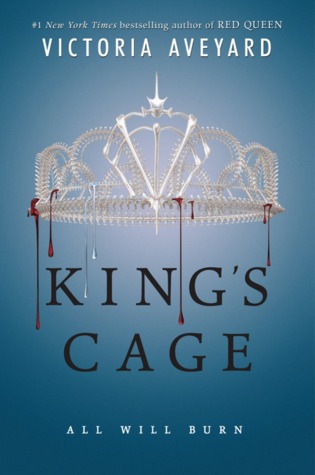 Title: King's Cage
Author: Victoria Aveyard
Source: Bought
Edition: Trade Paperback
Publication:February 7th 2017 by HarperTeen
Pages:  528 pages
Category: Young Adult, Lgbt, Romance, Magic, Fantasy
SYNOPSIS:
In this breathless third installment to Victoria Aveyard's bestselling Red Queen series, allegiances are tested on every side. And when the Lightning Girl's spark is gone, who will light the way for the rebellion?
Mare Barrow is a prisoner, powerless without her lightning, tormented by her lethal mistakes. She lives at the mercy of a boy she once loved, a boy made of lies and betrayal. Now a king, Maven Calore continues weaving his dead mother's web in an attempt to maintain control over his country—and his prisoner.
As Mare bears the weight of Silent Stone in the palace, her once-ragtag band of newbloods and Reds continue organizing, training, and expanding. They prepare for war, no longer able to linger in the shadows. And Cal, the exiled prince with his own claim on Mare's heart, will stop at nothing to bring her back.
When blood turns on blood, and ability on ability, there may be no one left to put out the fire—leaving Norta as Mare knows it to burn all the way down.
LIKENESS SCALE:❤❤❤
Warning: Possible Spoilers
Thoughts.. Thoughts..Thoughts..
This is the third book of the Red queen series and its getting bloodier. I had a hard time reading this book. It was a read which had its good moments and bad. The characters were not to my liking until Elena's revelation. As for  the Mare, Maven and Cal's love triangle, I'm so frustrated with it. I can't seem to like it anymore. The drama is too much. The main characters are too bland, nothing new. The plot of the story is too cliche to be stretched out too far. I can't tell though if it is worth continuing. But I finished it and so what is left is the fourth book. May be I'll read it, maybe not, If I'll read the last book it won't be a priority
Why I like this story:
revelations from the different character but mainly Elena
What I did not like in the story:
Main character's drama.. they don't seem to improve
The story progressed slowly
boring
I gave this story a three hearts rating because this book could be combined in the second book. I did not like to read the suffering of Mare under Maven's authority. It is common sense that Maven would try to dominate Mare in anyway.  I just don't see the point of having it as a whole book. However, I liked that the author has still something to surprise me. I love that a diversity of characters are in the story now. As a 500 page story, I was bored by it because the progression of the story was slow. I am used to reading  a lot of action and battle scenes between silvers and reds that this book has fallen short from my expectation. This has made me think twice in reading the last book. I know that the end is near, but if the fourth book is like this, I can't promise that I would finish it at once.
BUY, BORROW, NEVER MIND: Borrow, because the plot is too cliche thus the story gets boring as it lengthens
—————————————–
Disclaimer: This review is my honest opinion on the story. I did not receive any kind of compensation for reading and reviewing this book. I am under no obligation to write a positive review. I purchased my own copy King's Cage by Victoria Aveyard. The book photo and synopsis here is from goodreads.com.