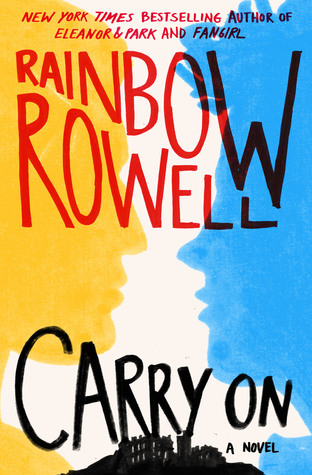 Title: Carry On
Author: Rainbow Rowell
Source: Bought
Edition: Trade Paperback
Publication: October 2015 by St. Martin's Griffin
Pages:  522 pages
Category: Young Adult, Lgbt, Romance, Magic
SYNOPSIS:
A #1 New York Times-bestsellerSimon Snow is the worst Chosen One who's ever been chosen.
That's what his roommate, Baz, says. And Baz might be evil and a vampire and a complete git, but he's probably right.
Half the time, Simon can't even make his wand work, and the other half, he starts something on fire. His mentor's avoiding him, his girlfriend broke up with him, and there's a magic-eating monster running around, wearing Simon's face. Baz would be having a field day with all this, if he were here — it's their last year at the Watford School of Magicks, and Simon's infuriating nemesis didn't even bother to show up.
Carry On – The Rise and Fall of Simon Snow is a ghost story, a love story and a mystery. It has just as much kissing and talking as you'd expect from a Rainbow Rowell story – but far, far more monsters.
LIKENESS SCALE:❤❤❤❤❤ (5 hearts and more)
Warning: Possible Spoilers
Thoughts.. Thoughts..Thoughts..
I never thought I would love this novel more than Fangirl. Fangirl made me laugh, smile and just reminisce my college life. However, with Carry On I was reminded that the fantasy genre could be light hearted. It had a plot which was full of romantic tension between Baz and Simon. I love them. They are the perfect gay couple for me. Rainbow Rowell has surprised me a lot. I loved Fangirl, but I love this story more. However, Landline was just okay for me because the ending just confused me. As for Carry On, it was just on another level. It could not be compared to her other novels. I love fanfiction and this certainly reminded me that fanfiction does have everything on it. The story did have different point of views which were not confusing.  Also, I love that both characters are queer.
Why I like this story:
It was a light read
I was just so happy that Baz and Simon got together
It was very interesting
The ending justified the means
I liked how the story was written
What I did not like in the story:
I gave this story a five hearts and more rating because I just love it. I could read it again and again and again.The reading experience was fun that I could have read it without sleeping. It was light and funny because of the witty banter between the characters. Somehow, Simon's obsession with Baz just made you wonder if he liked him. Baz and Simon's relationship was not awkward to read. It was not cheesy but still it had just the right amount of romantic excitement or "kilig". They both bickered like married couples.  I did not like Agatha. For me she was two faced and just wanted to be perfect with Baz or Simon. The ending was very cliche but what mattered most for me was how the ending happened. I'm just happy that Simon and Baz are an item and this is what matters most to me.
BUY, BORROW, NEVER MIND: Buy, because it is a feel good read where love is for every one.
—————————————–
Disclaimer: This review is my honest opinion on the story. I did not receive any kind of compensation for reading and reviewing this book. I am under no obligation to write a positive review. I purchased my own copy of Carry On by Rainbow Rowell. The book photo and synopsis here is from goodreads.com.