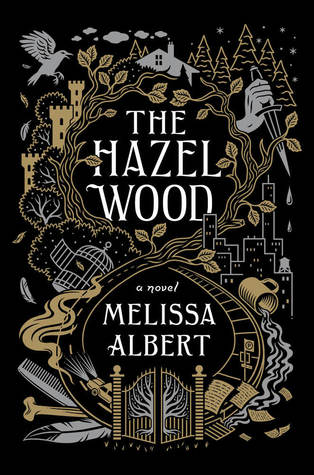 Title: The Hazel Wood
Author: Melissa Albert
Source: Bought
Edition: Trade Paperback
Publication:   January 30th 2018 by Flatiron Books
Pages:  368 pages
Category: Young Adult, Fantasy, Retelling
SYNOPSIS:
Seventeen-year-old Alice and her mother have spent most of Alice's life on the road, always a step ahead of the uncanny bad luck biting at their heels. But when Alice's grandmother, the reclusive author of a cult-classic book of pitch-dark fairy tales, dies alone on her estate, the Hazel Wood, Alice learns how bad her luck can really get: her mother is stolen away―by a figure who claims to come from the Hinterland, the cruel supernatural world where her grandmother's stories are set. Alice's only lead is the message her mother left behind: "Stay away from the Hazel Wood."
Alice has long steered clear of her grandmother's cultish fans. But now she has no choice but to ally with classmate Ellery Finch, a Hinterland superfan who may have his own reasons for wanting to help her. To retrieve her mother, Alice must venture first to the Hazel Wood, then into the world where her grandmother's tales began―and where she might find out how her own story went so wrong.
LIKENESS SCALE:❤❤❤❤
Warning: Possible Spoilers
Thoughts.. Thoughts..Thoughts..
I like this story but I don't know if I would be continuing with this series. I have my reservations because it is another story but it could be connected to this one. I like how the author wrote the story. It had its fast and slow movements. Somehow, this story is a  morbid fairytale which could go on forever. However, Alice was able to get out from her fairytale and live a normal life. I did not anticipate the story's ending and made me ask more questions.I was hoping to get more answers by the end of the story. Despite this, there were creepy and spine tingling scenes which I liked.
Why I like this story:
creepy
it was well written
A good first book if it would be turned in a series
Alice's mom was a character
A fairytale for adults
What I did not like in the story:
Ellery Finch's character development was too fast.. I would love to have a side story with him as the main character
It had components from Alice in Wonderland but not much
The ending was abrupt
I had more questions after reading the story
I gave this story a four hearts story because it was a good read but I was not satisfied with it. I think a lot of scenes could be improved. However, I like how the author has executed the story. It had some elements from Alice in Wonderland but the author has made something original with it. The ending was abrupt but it is a good platform to start another book. I think there is another book and I maybe reading it. Aside from this, I love the book cover. It is very eye catching and beautiful.
BUY, BORROW, NEVER MIND: Buy, because the story is creepy and the book cover is beautiful.
—————————————–
Disclaimer: This review is my honest opinion on the story. I did not receive any kind of compensation for reading and reviewing this book. I am under no obligation to write a positive review. I purchased my own copy of The Hazel Wood by Melissa Albert . The book photo and synopsis here is from goodreads.com.