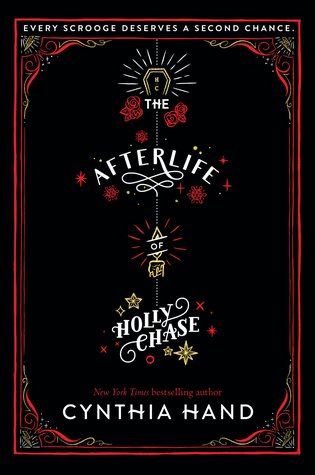 Title: The Afterlife of Holy Chase
Author: Cynthia Hand
Source: Bought
Edition: Hardbound
Publication: October 24th 2017 by HarperTeen
Pages: 389 pages
Category: Young Adult, Holiday, Retelling, Fantasy, Paranormal
SYNOPSIS:
On Christmas Eve five years ago, Holly was visited by three ghosts who showed her how selfish and spoiled she'd become. They tried to convince her to mend her ways.
She didn't.
And then she died.
Now she's stuck working for the top-secret company Project Scrooge–as the latest Ghost of Christmas Past.
Every year, they save another miserly grouch. Every year, Holly stays frozen at seventeen while her family and friends go on living without her. So far, Holly's afterlife has been miserable.
But this year, everything is about to change. . . .
LIKENESS SCALE:❤❤❤ (3.5 hearts)
Thoughts.. Thoughts..Thoughts..
I had high hopes for this story but it fell short. Nevertheless, the story had a lesson and it was perfect for the Christmas season.
This book is a story retelling based on A Christmas Carol by Charles Dickens. Holly is a perfect scrooge. She terrorises her maid. Also, she thinks that she is above everyone else. So, one Christmas eve the ghosts of Christmas past, present and future visit her. She was not convinced of the ghosts plea for her to change. Thus she still remained a scrooge and died the following day. Although dead, she was able to work as the ghost of Christmas past because the previous ghost of Christmas past needed to move on. Years passed and she is still the ghost of Christmas past of project scrooge. However, everything is gonna changed because of a "hot" scrooge candidate named, Ethan. Holly can't concentrate on her job and has broken every rule of project scrooge. The ending had a twist that was so unexpected that it caught me of guard. I did not expect it but it was a happy one.
Holly Chase was a character that is so hard to love. She is a bully just because she is rich and looks good. However, it is sad that her mother died early and was replaced by a heartless woman. This moments made her develop a scrooge like personality and thus qualified her for the scrooge project. While, Ethan emulated his grandfather's greediness for money because he did not like to be like his father. All the characters who worked in project scrooge were given nicknames from the stories of Charles Dickens. I like this detail very much. Because of this, I am very much interested to read Charles Dickens books. ( note to self: I better get a copy)
I gave this story a 3.5 hearts review because I was expecting the witty humour which Lady Jane had. Although this was not that fulfilled, I still liked the characters, setting, lesson and idea of the story. It would be nice to have a real project scrooge in this world. At least, people who seem unredeemable would be turned from their ways. The idea of the story was a plus for me. It was nice read for me and was very timely. Bought this book last Christmas, started to read it on Christmas break and finished it last February. Even if it is Christmas or not this book carries a lesson which everyone should know. And that is, people have a lot of chances to improve themselves, however it is up to them to grab that chance.
BUY, BORROW, NEVER MIND: Borrow because it was a nice story but it lacked the witty humour I was expecting.
—————————————–
Disclaimer: This review is my honest opinion on the story. I did not receive any kind of compensation for reading and reviewing this book. I am under no obligation to write a positive review. I purchased my own copy of The Afterlife of Holly Chase by Cynthia Hand. The book photo here is from goodreads.com.