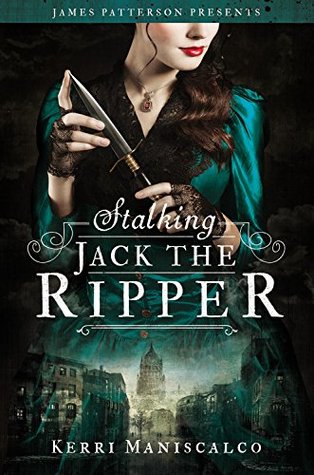 Title: Stalking Jack the Ripper
Author:  Kerri Maniscalco
Source: Bought
Edition:Hardbound
Publication:  September 20th 2016 by Jimmy Patterson
Category: Horror, YA, Mystery, Historical
SYNOPSIS:
Presented by James Patterson's new children's imprint, this deliciously creepy horror novel has a storyline inspired by the Ripper murders and an unexpected, blood-chilling conclusion…
Seventeen-year-old Audrey Rose Wadsworth was born a lord's daughter, with a life of wealth and privilege stretched out before her. But between the social teas and silk dress fittings, she leads a forbidden secret life.
Against her stern father's wishes and society's expectations, Audrey often slips away to her uncle's laboratory to study the gruesome practice of forensic medicine. When her work on a string of savagely killed corpses drags Audrey into the investigation of a serial murderer, her search for answers brings her close to her own sheltered world.
The story's shocking twists and turns, augmented with real, sinister period photos, will make this dazzling, #1 New York Times bestselling debut from author Kerri Maniscalco impossible to forget.
LIKENESS SCALE:❤❤❤❤
For a debut novel it was a good one. The story is about Audrey and her peculiar taste to dissect and study the dead. Her curiosity regarding forensic science as we know it now, was not encourage.This is because no lady should be exposed to the dead because of her frail spirit. However, Audrey would rather slice up a body than sew napkins in the veranda. Her education was given by her uncle who everyone thinks is a loony. Due to her insistence, she attends the classes of her uncle which deals with forensic science. In her first class, she met Thomas Cresswell a boy who can tune out of his emotions just to finish work. Also, he is so good with deduction that makes him brilliant for forensic science. As the story progresses, a series of killings have been autopsied by Audrey and Thomas with the supervision of Audrey's uncle. Also, it seems that there is only one killer on the loose because of the patterns of the killings. This killer is named the Leather Apron killer a.k.a. Jack the Ripper. The killer is on the loose which makes any man a suspect and ladies the possible next victim. Now, Audrey starts stalking Jack the Ripper which brings  a lot of revelations to Audrey's life and tomorrow may not be the same for her and her family.
The story was very interesting. It was not a retelling but just some facts about Jack Ripper were used to make the book. I like the illustrations too. They added to the creepy aura of the story. I am not much into killers but this story was too interesting to pass. Surprisingly, I liked the ending. I was expecting it but I was not expecting it to just surprise me. Thomas Cresswell is a character which frustrates and intrigues me because he is such a flirt. I hope the second book would talk more about his past. I bought this book because I watched a youtube video and the youtuber can't help but recommend the book so here I am happy that I took her advice.
Everything in the book was all in the same direction. The dark green cover was sinister and elegant. I like how the book looked visually. The story was good for a debut novel. It got me wondering what is the next adventure of Audrey and Thomas. I have a copy of the second book and I'll be reading it with in the year. I hope that the story improves as time passes. The first book had a lot of Audrey snooping and breaking society's rules. I expect this to occur in the second book too. The story earned a 4 hearts rating because I like how Audrey and Thomas banter. They are very entertaining and frustrating at the same time. The illustrations added more visual appeal to the story. Also, the ending was satisfying despite it being sad. However, life does go on and justice should be served. Also, Thomas Cresswell as a character is mysterious which really makes me more curios about him aside from his looks. Where in, I imagine him as a handsome boy. I hope his character development would not upset me in the future. All in all, I had fun reading this book even if the illustrations were creepy. This book are for readers who want something different and creepy yet not that terrifying even if it is categorised as horror.
QUOTATIONS:
"Roses have both petals and thorns, my dark flower. You needn't believe something weak because it appears delicate. Show the world your bravery."
― Kerri Maniscalco, 
Stalking Jack the Ripper
"Fear is a hungry beast. The more you feed it, the more it grows."
― Kerri Maniscalco, 
Stalking Jack the Ripper
"Wield your assets like a blade, Cousin. No man has invented a corset for our brains. Let them think they rule the world. It's a queen who sits on that throne. Never forget that."
― Kerri Maniscalco, 
Stalking Jack the Ripper
"Pretend I am as capable as a man? Please, sir, do not value me so little!"
― Kerri Maniscalco, 
Stalking Jack the Ripper
"Death was not prejudiced by mortal things such as station or gender. It came for kings and queens and prostitutes alike, often leaving the living with regrets."
― Kerri Maniscalco, 
Stalking Jack the Ripper