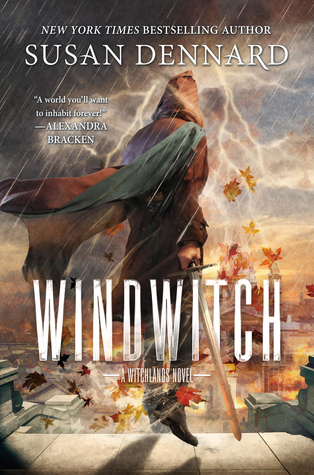 Title: Windwitch (The Witchlands book #02)
Author: Susan Dennard
Source: Bought
Edition: Tradepaperback
Publication:January 10th 2017 by Tor Teen
Pages: 400 pages
Category: Fantasy, Young Adult, Friendship
SYNOPSIS :
Sometimes our enemies are also our only allies…
After an explosion destroys his ship, the world believes Prince Merik, Windwitch, is dead. Scarred yet alive, Merik is determined to prove his sister's treachery. Upon reaching the royal capital, crowded with refugees, he haunts the streets, fighting for the weak—which leads to whispers of a disfigured demigod, the Fury, who brings justice to the oppressed.
When the Bloodwitch Aeduan discovers a bounty on Iseult, he makes sure to be the first to find her—yet in a surprise twist, Iseult offers him a deal. She will return money stolen from him, if he locates Safi. Now they must work together to cross the Witchlands, while constantly wondering, who will betray whom first?
After a surprise attack and shipwreck, Safi and the Empress of Marstok barely escape with their lives. Alone in a land of pirates, every moment balances on a knife's edge—especially when the pirates' next move could unleash war upon the Witchlands.
LIKENESS SCALE:❤❤❤❤
This second book picks up after every character in the first book got separated from each other. Also, a lot of characters died in the last chapters of book one. Now, the empires are preparing for war while Safiya is captured by Vaness then is captured by the Hell-bards. While, Prince Merik who is a dead man is back in Nubrevna as the Fury who is looking for justice. Iseult and Aeduan have an agreement to look for Safiya in exchange for information which Iseult only knows. The story is action packed and has less romance in it. Although, Iseult and Aeduans's feelings could be either romantic or camaraderie. The author did  establish the world of the series more with this book. Most of the characters have improved their magic most especially Iseult, even if its on the dark side. Now, Prince Merik, at least knows that his sister does love his country too. I'm excited on the reunion of the four main characters. I don't know if I am to expect something romantic from Iseult and Aeduan but its possible. The story had four Point of Views, it was suppose to be confusing but the author wrote the story well. I enjoyed reading Iseult's POV compared to the other POVs. The story reminds me that most adventures done on your own would help you grow as a person. And in this adventure, we don't know who would be your real friends or just a passing fancy.
As a second book, it was an amazing read. Although, I liked Truthwitch more, Windwitch was needed for the third book to be epic. Somehow, the lack of romance was a bummer but at least friendship was there. I like how Iseult and Aeduan helped each other not get captured by the enemy. Also, how both Iseult and Safi knew that they are safe even if they are apart. I am disappointed with Merik but in the end he pulled through. The ending was good. It promises more adventure for the four characters. I do hope that their paths would cross in the third book. I gave this story a 4 hearts rating because I was hoping for more but it did deliver the best things from Truthwitch which is magic and action. It was also written superbly. There was never a dull moment that I could remember. The dead resurrecting is a good addition to a war that will maybe in the third book. I'm excited to read the third book but according to goodreads it's still coming this 2019.
QUOTATIONS:
"It is always easier to blame gods or legends than it is to face our own mistakes."
― Susan Dennard, Windwitch
"The holiest always have the farthest to fall."
― Susan Dennard, Windwitch
"There were advantages to being a dead man."
― Susan Dennard, Windwitch
"There are degrees of freedom. Complete freedom isn't always good, nor is the lack of it always bad."
― Susan Dennard, Windwitch
"Mhe varujta. Trust me as if my soul were yours."
― Susan Dennard, Windwitch